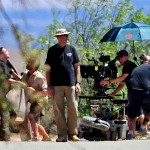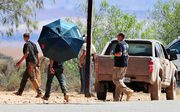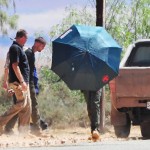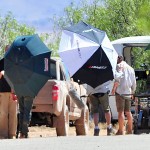 Source
Il giovane ruobacuori si trovava sul set sul ciglio della strada per un ora per una scena di combattimento.
Nel tentativo di bloccare le riprese esclusive di The Advertiser, lo staff ha chiuso la strada e proclamato "proprietà" la città di circa sei edifici a sud di Port Augusta.
"Possediamo questa città" ha detto un produttore del film a The Advertiser.
Le guardie del corpo hanno usato ombrelli e camion per coprire le cineprese dalla star, che appariva con un taglio quasi rasato per la parte.
Sembra anche che abbia dimenticato il suo look pulito per il film e che abbia la barba di tre giorni.
La scena riprende un barcollante Pattinson fuori dalla macchina dalla parte del passeggero prima di essere colpito a terra dal guidatore.
Comparse e una potenziale controfigura di Pattinson si trovano in Hammond per le riprese e prima nelle vicinanze di Quorn dove Pattinson è stato visto bere un drink in un pub nel weekend.
Ieri, la troupe di The Rover stava filmando in una località remota, la grande città deserta di Bruce.
The Rover verrà filmato nelle località di Flinders Rangers per il resto della settimana e il prossimo mese nel nord di Marree.
Le star del film e le comparse staranno a Port Augusta mentre il centro di produzione del film si trova a Quorn Town Hall. Traduzione grazie alle
TwI_MomS
HOLLYWOOD and a new haircut for one of its biggest stars came to the tiny Flinders Ranges town of Hammond yesterday for the top-secret filming of Robert Pattinson's new film, The Rover.
The teen heart-throb was on the roadside set for just an hour for a fight scene where it appeared he came off second best.
In their efforts to block The Advertiser 's exclusive shots, the film crew and minders closed the road and claimed "ownership" of the town of about six buildings, east of Port Augusta.
"We own this town," a film producer told The Advertiser.
Minders used umbrellas and trucks to keep intrusive cameras off the star, who appeared to be sporting a close-shaved haircut for the role.
He also looks to have forgone his clean-cut look for the movie and has a three-day growth.
The scene featured Pattinson staggering out of the passenger side of a ute before being beaten to the ground by the driver.
Extras and a potential stand-in for Pattinson were also in Hammond for the filming and had earlier been in nearby Quorn where Pattinson is said to have had a drink at one of its pubs over the weekend.
Earlier yesterday,
The Rover
crew was filming at an even more remote location, the largely deserted town of Bruce.
The Rover
is understood to be shooting at locations deeper in to the Flinders Ranges for the rest of this week and next month as far north as Marree.
The stars of the film and some of the extras are understood to be staying in Port Augusta while the movie's production centre has been set up in the Quorn Town Hall.
On set, the stars are well catered for as temperatures reach the high-30s this week - they have two airconditioned motorhomes.
Pattinson flew into Adelaide on January 18 - minus actress girlfriend Kristen Stewart - and spent more than a week around town, meeting the film's producers at the SA Film Corporation's new Glenside studios.
The
Twilight
star was spotted having dinner on Gouger St with
The Rover
director David Michod and producer Liz Watts.